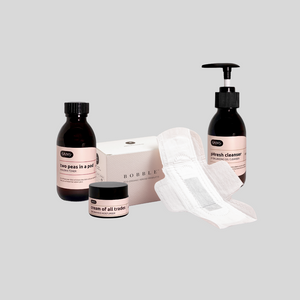 SANS x BOBBLE - Self-Love Collaboration
SANS Beauty is an eco-friendly, clean, sustainable skincare brand based in Kuala Lumpur, Malaysia. Founded by 2 undergraduate students who share similar interests and love for clean beauty products. The inspiration behind their brand name begins with the word SANS, which means without. This is the key core value they have instilled in their products, which are free from nasties such as parabens, sulphates and fragrance. 
SANS Beauty's core values are transparency, commitment to customers and they aim to make an impact not just in the beauty space, but also for the environment by encouraging Malaysians to live more eco-consciously simply through skincare.
A brand that just launched in February 2021, they are propelling the sustainable and eco-conscious lifestyle to greater heights with small steps. Through their brand, they strive to educate everyone on eco-conscious practices and create accessible and affordable products for everyone. This is where the #selfcarewithsans, #sanswaste, and #sanscares journey began. 
These initiatives were launched to not only encourage their audience to reduce, reuse and recycle, but to also remind the masses on the importance of self-care in its many forms. The initiative #sanswaste encourages their consumers to return their empties for the purpose of reducing waste. This allows the brand to reuse or repurpose their bottles and jars in a safe and environmentally-friendly manner. 
Other than that, these ladies behind the brand have also made it a point to help those in need, especially during the pandemic - SANS has helped raise funds for @refugefortherefugee, as well as donated food aid boxes to over 160 families in accordance with the #kitajagakita campaign launched in mid 2021.
The SANS x BOBBLE collaboration intends to marry self-care, both inside and out. Our self-love package is an exclusive set consisting of SANS Beauty's and BOBBLE's bestselling items. In this set, you'll be able to experience next level self-care, which is good for your body and the environment. Get your set now, only at Sans Beauty
---